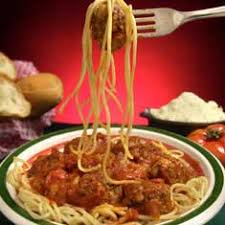 Life's beautiful and 'cherry-licious'! This is what I think after a few
chocolate covered cherries made their way in my stomach - and my heart!
And I'm just getting ready for more, more 'oodles of fun' with

Spaghetti
Day

!
Guys, spaghetti is simply the best thing to happen. It's easy, fast
to make and super easy to eat. So while, I go in search for some... Check
out this yummy recipe!
8 ounces uncooked spaghetti, cooked
1/2 cup milk
1 egg
1 lb ground beef

1 medium onion, chopped, 1 medium green bell pepper chopped

2 garlic cloves, minced, 1 teaspoon chili powder

1/2 teaspoon cumin, 1/2 teaspoon oregano, 1/2 teaspoon salt, 1/4 teaspoon
pepper

2 (8 ounce) cans tomato sauce

1/2 cup shredded cheddar cheese

1/2 cup shredded monterey jack cheese
Combine hot drained spaghetti, milk and egg and mix well.

Pour spaghetti mixture into a buttered casserole dish.

Brown ground beef with onion, bell pepper and garlic in a large skillet

and then drain.

Return drained meat back into the skillet and add seasonings. Cook for 2

minutes.

Stir in tomato sauce and cook for 2 more minutes.

Spread meat mixture over spaghetti.

Sprinkle with cheese.

Bake at 425°F for 10 minutes or until cheese melts and is bubbly.

Remove from oven and let stand for 10 minutes.